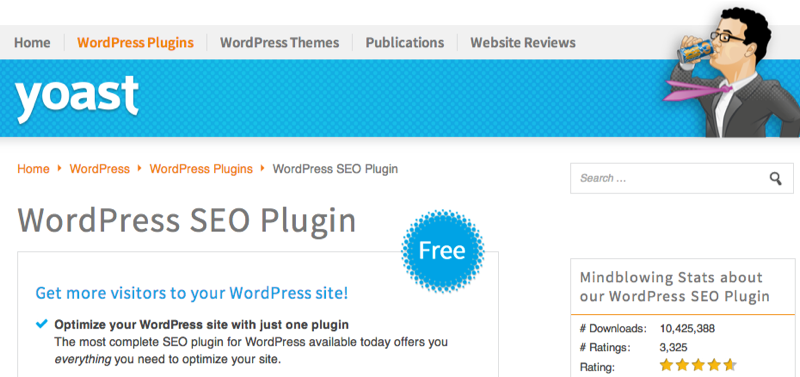 At PromoSimple we are big WordPress fans. We use WordPress for our blog, Giveaways Directory and even some pages our website. We've chosen to go the WordPress route over building these sites from scratch due to the flexibility, ease of use and options available via the WordPress platform.
One of the best aspects is the crazy number (31,000+) of WordPress plugins available for customizing your site and adding functionality. Below you can find our 7 favorite FREE WordPress plugins that we use on a variety of websites.
This plugin, with over 10 million downloads, gives a wide variety of options for all of you posts and pages. If you use only one plugin for your site, this should be it.
You are able to set specific titles and descriptions as well as see a preview of how that meta data will appear when displayed by search engines. Beyond the basics, this also gives you options for automatically creating XML sitemaps, which is a huge benefit for ensuring that search engines are aware of all of your content. Settings can also be altered for individual posts and pages for these site maps, to remove or emphasize certain types of content.
In order to fight duplicate content issues you have options for setting canonical links for pages or even assigning a 301 redirect to content to automatically redirect users to another page.
For your site as a whole, the WordPress SEO Plugin makes it easy to set rules for how URLs are structured, formats for page title creation and the ability to hide or display certain types of pages, such as your site's author archives (which are not really necessary for a one-author blog).
It seems like the options for social sharing plugins is rather endless. This particular plugin leaves out many of the bells and whistles and instead simplifies adding social sharing buttons to pages and posts. With only a few options, the simplification means that it's also incredibly easy to setup.
There are a few design and placement options available, along with choosing which social network buttons to include. Unlike similar plugins I've not encountered any issues with this plugin going rogue and appearing in the wrong place or displaying improperly, regardless of the browser and OS it is being tested on.
Included are buttons for Pinterest, LinkedIn, Facebook, Twitter and Google+. The one downside is that the plugin does not currently include a Facebook 'Share' option, only a 'Like' button. If this were added, it would be the ideal plugin.
A simple plugin that allows you to display content that is deemed relevant and similar to the post or page that the user is viewing. The setup allows for many modifications for how and where the content is displayed, including both text link and image displays.
Unlike some plugins that I've tested, nRelate indexes your content and sets parameters for how and what to show. Similar plugins may perform this feature 'on the fly' which can slow down you database when website traffic peaks, which we all know is to be avoided at all costs.
Another simple to-setup plugin, Scroll Triggered Boxes by Danny van Kooten, gives you options for creating an HTML layer that will appear on the users screen once they reach a certain point in the page. The customization and options for promoting content are limitless.
With basic settings like at what point in the page's height the box appears, how many days cookies are valid for before resetting for users (to allow users to hide the box if they'd like), animation and positioning it's a very customizable feature for your webpages.
Because the content of the box is created within a 'post' you can add any content that you'd like, including text or images, social media buttons (a Facebook Like box) or an email sign up form to let users subscribe directly within the box.
With so many options for gathering comments on blog posts these days, including WordPress's default comment area and Facebook comment forms, Disqus stands out a bit with it's ease of use.
Installing and activating the plugin could not be easier, once you've created a free account on the Disqus website. Once comments are submitted they also provide fairly robust reporting options for you to be able to effectively moderate comments and monitor what content is garnering the most attention on your website.
Try out the Disqus plugin at the bottom of the page and leave us a comment
One nice feature of using Disqus is that users can opt to login with Facebook, Twitter, Google or create a Disqus account. The commenting module also allows the user to share that comment on Facebook or Twitter, increasing your chances of attracting more visitors to your content.
Perhaps the most innocuous of the plugins on this list, FancyBox is an incredibly simple way to allow users to click on an image and allow it to be displayed at it's full size in a shadow box over the content that they are viewing.
To see FancyBox in action click on any of the images of recently run sweepstakes below:
This plugin allows you to add reasonably sized images to posts and pages in WordPress without worrying that users won't be able to see the detail that they need to be able to view. This is particularly useful for 'How To' or instructional posts. Rather than posting giant screenshot after giant screenshot you have the option to include thumbnails and let users view the full size image if they choose to.
Another functional plugin, this feature allows you to customize the way that page navigation is displayed on your pages. This includes options for how many pages are shown for users to click to, multiples shown (1,2,5,10,15,18), whether to include navigation on single pages and a slew of other options.
This makes it much easier, particularly for sites with large quantities of content, for the user to navigate through the existing content. It also gives options for changing the way that your page navigation is displayed to ensure that your navigation is accessible when viewing on mobile devices.
I obviously couldn't skip this one, right? The PromoSimple plugin allows you to add giveaway entry forms to pages and posts by just entering a four digit code, avoiding any chance of conflict with your other plugins and sidestepping issues that can occur when pasting JavaScript or HTML into a post that you view using the Visual Editor.
This plugin also enables the PromoBar, which allows you to add a hovering layer to the top, right or left side of the page to let users know about your current promotion. When the user clicks on the floating layer your giveaway entry form opens over the content to allow the user to enter the promotion without ever leaving the page that they are on. Download the Plugin here.
What are your favorite WordPress Plugins? Tell us in the comments below: