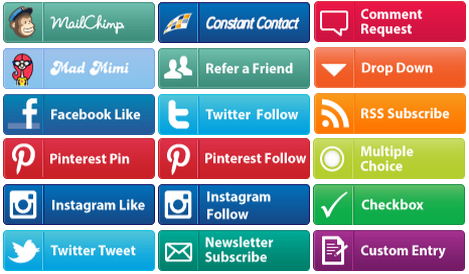 Now that you've settled on your goals for your giveaway, you're ready to determine if there are ancillary goals that can help you to get the very most out of your promotion.
Getting the most out of your giveaway
In addition to the requirements that all entrants must complete, you can also add bonus entries, which are optional for entrants. In return for completing these entries, the entrant is awarded a set number of additional chances to win the giveaway.
Growing your email newsletter lists with giveaways
If you have an email newsletter list, you've probably realized that growing and maintaing a quality subscriber list is an activity that takes constant vigilance. It requires much more than a 'set it and forget it' kind of marketing. However, giveaways can help make the task much easier. They are incredible tools for growing brand awareness and attracting new users to your lists.
If your email lists are a priority, you're probably familiar with things like attrition rates, SPAM complaints and bounces. These things may even keep you up at night. One of the most powerful aspects of giveaways is that users must provide legitimate email addresses when they enter or else they cannot be contacted if they win. This significantly decreases the chances of high bounce rates.
However, every entrant may not immediately be so taken by your brand that they want to receive daily emails from you. By including an email subscription as a bonus entry, only those who are interested in your daily (or weekly / monthly) newsletter are likely to subscribe. This helps to maintain your list integrity and reduce the chances of your open rates dropping or complaints increasing.
With PromoSimple it is incredibly easy to integrate some of the most popular email service providers (MailChimp, Constant Contact, Mad Mimi) directly into your campaign. Users are automatically added to your lists when submitting the entry.
Bonus entry options are the ancillary goals for your giveaway. These items are 'nice to have' but if they are not completed by every entrant, it does not mean that your giveaway was a flop. If your primary goal is to increase your Facebook fan base, you may consider attracting new Twitter Followers or Instagram Likes to be secondary goals; these are the items you should add as Bonus Entries.
Restricting entrant volume through giveaway requirements
When a giveaway includes requirements such as being a Facebook Fan or Twitter Follower, you are restricting the audience that will participate in your promotion. Potential entrants that are not on, and do not want to be on, these social networks are not going to enter your promotion.
Letting your audience decide where to interact with your brand
Including optional, bonus entries allows your entrants to decide how they'd like to keep up with your news. While some will be happy to follow you on social networks, receive your emails, subscribe to your RSS feeds and opt into every other communication channel you participate in, others will want to limit this interaction. Bonus entries give the user the power to decide where and when to hear from you.
Setting expectations for bonus entries
All entrants are not going to complete all bonus entries, so be sure to keep your expectations realistic. 42% of entrants complete at least one bonus entry. Unsurprisingly, subscribing to email newsletters has the higest participation rate. This is due to the fact that every entrant must have an email address, whereas some entrants may not have accounts on social networks or may otherwise be unable to enter some bonus entry options.
Read the full post about bonus entry participation rates on our blog.