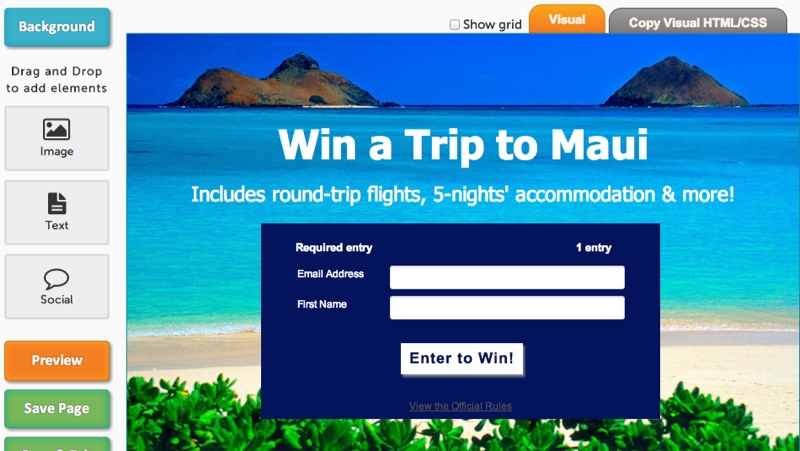 So, you've set your goals and decided on which entry methods to include in your giveaway. Now it's time to customize the design of your giveaway's entry form and review your options of where your giveaway will be hosted.
Customizing entry form layout and designs
There are virtually no limits on the permutations for customizing the layouts and giveaway designs of entry forms powered by the PromoSimple platform.
Using design templates
You have the option to choose from ten pre-designed templates for sweepstakes. Pre-built options range from basic gray and tan to green, blue and pink. There are also a few more colorful options like those shown in the image below. PromoSimple also makes it easy to fully customize your sweepstakes form design. Select your fonts, colors, images, layout and more to create a custom giveaway design.
Selecting which giveaway entry form elements to display
Most elements within the entry form can be shown or hidden. This includes attributes such as the headline background, number of days left, number of winners and even whether or not to enable the entry form login features. You can also upload and edit images for your entry form.
Designing a custom sweepstakes entry form
If you'd like to really integrate your entry form with your website's branding, you can input your own colors for elements such as borders, backgrounds and buttons. Customizing these features are easy with the simple tools in the campaign builder. You can also select from a variety of fonts. Full customization is available to accounts that are Blog, Business or Agency.
Integrating the giveaway entry form into website content
Once published, a custom embed code is provided which allows you to host the sweepstakes entry form directly within the content of a webpage or blog post. The form can be seamlessly integrated so that its design fits in smoothly with your webpage design.
WYSIWYG Microsite page Design for sweepstakes
An alternative to hosting the giveaway form on your website is to share the link to your hosted page, which contains your entry form and is accessible from all devices. Agency accounts can customize the full content of the Hosted Page using the WYSIWYG editor and adjusting the code with your own HTML and CSS.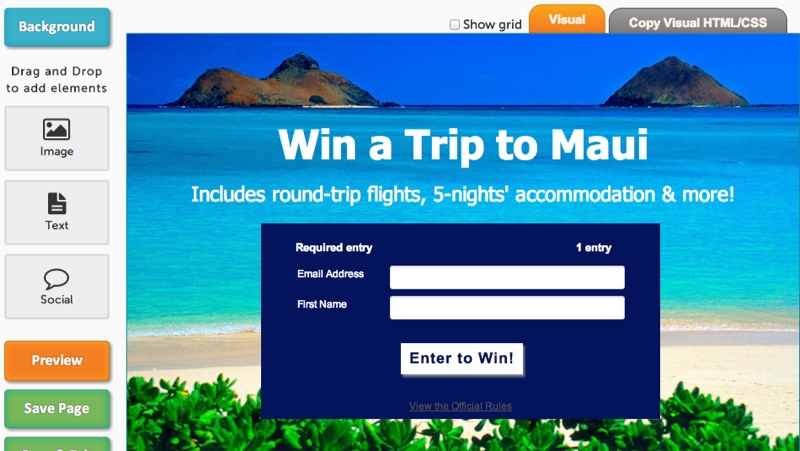 Hosting giveaways on Facebook
After publishing your giveaway you can also use the Add to Facebook feature to host the giveaway within the content of a tab on your Facebook page. Facebook page content can be designed by anyone, regardless of design skills, with the simple-to-use WYSIWYG editor.
With one click you can opt to use a Like Gate for your sweepstakes which requires users to Like your page before they can access the giveaway's entry form. For Gold accounts, the content displayed within the tab on Facebook can be customized to share the same design as your hosted page.