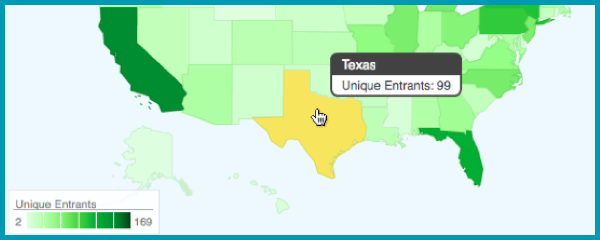 Your sweepstakes is up and running. You're promoting it all over the place and users are clamoring to enter and win your prize. How do you evaluate your success? Check out this introduction to reports and learn how to select winners at the giveaway's end.
There are a variety of standard reports for all giveaways that provide you with real-time access to detailed data about every entrant and entry as well as trend reports that give you insights into how your campaign is performing. All reports can also be exported to CSV files for use outside of the platform.
Account dashboard report
The account dashboard lets you quickly view the performance of your most recent campaigns in a single view. You can analyze the volume of unique entrants and total entries in comparison with past giveaways to benchmark your success.
Campaign dashboard report
Your campaign dashboard provides an overview of a single giveaway's performance. This includes three giveaway trend reports (volume of entrants by location, daily entrants and total entries to-date). From this report you can also see the total number of unique entrants and entries as well as a breakdown for the number of times each entry option was completed.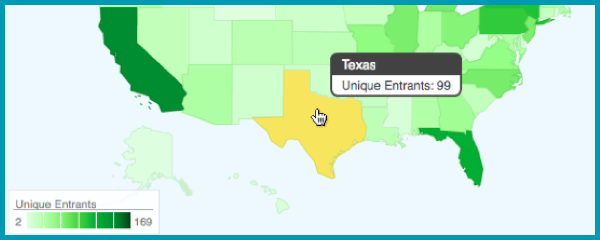 Unique entrant report
The unique entrant report is a quick way to view every user that has entered the campaign including all of their basic information (email, IP and timestamp) as well as any demographic information that you collected (name, phone number, address).
Entries report
For every entry option in the giveaway there is an Entry Report available that contains all instances of the entry being completed. These reports vary slightly based on the entry method and what data is collected when the entry is submitted. Facebook 'Like' entries will include the user's Facebook username while a report for a Poll or Survey question, such as 'multiple choice,' will contain the selection made by the entrant.
Learn how to grab data to provide your partners with a synopsis of the giveaway's performance. You can also download all of your data in CSV files to send to partners. Sending reports to sponsors doubles your chances of working together again. 
Selecting winners for your campaigns is simple. You have three options for choosing winners: manually select a contest winner or generate random winners using either Random.org or PromoSimple's random number generator.
At the end of your campaign you'll be notified with a reminder to log in and pick a winner. In just two clicks an entry is randomly selected for you, using the method of your choice.
For contests you can use the 'Manually select winner' link to search for your winner by email address and label the winning entry.
After you've selected your winner, you can customize the message shown in the entry form to congratulate your winner. You can also use this area to use your expired entry form as a marketing tool to promote other areas of your website or newly launched giveaways, so that when users end up on that page, they can navigate to content that is of interest to them.