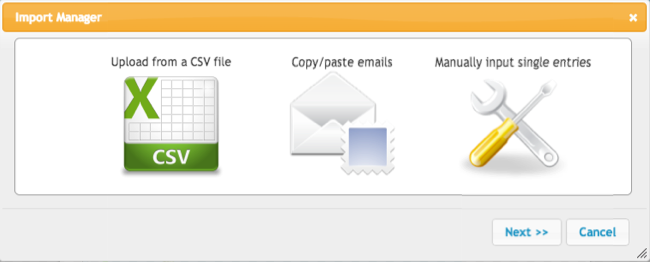 With a newly released feature you can now import entries into your giveaways, sweepstakes and contests by uploading a spreadsheet, pasting a list of emails or manually inputting your data for entrants.
Importing Entries
For any existing campaign navigate to the Reports Dashboard and click on the Import Entries button on the right side of the screen.  This will provide you with three different options for how you would like to add these entries to your campaign.
Data that is imported is validated against your campaign's existing data. Once the import has processed you will see a report that shows the total number of entries that were imported, any errors and any entries that were not imported due to being duplicates of entries / entrants that already exist in your campaign. Data can be imported for Live or Ended campaigns.
Upload a Spreadsheet
You can upload a spreadsheet in CSV format (you can save Excel files into the CSV format) that contains any of the available required data for entrants as well as including additional information in the 'data' field.
Except for the top row in your CSV file (which should contain column names), each row represents an entry. Columns with valid names in the first row will be imported (columns with invalid names will be ignored but columns with valid names will still be imported). Below is a list of the valid column names. Only the 'email' column is required for imports. Please make sure everyone on your list actually signed up for your promotion and granted you permission to enter them.
Valid fields that can be imported include
| | | | |
| --- | --- | --- | --- |
| Email* | First Name | Last Name | Address |
| City | State | Zip | Phone |
| Country | Gender | Date of birth | Data |
Paste a list of emails
To quickly import a list of entrants you can simply copy a list of email addresses from a spreadsheet and paste into the data field.
Manually input entries
To input entrants one by one you can use the manual input function, which provides all of the available fields listed above. Only email is address is required to import an entrant.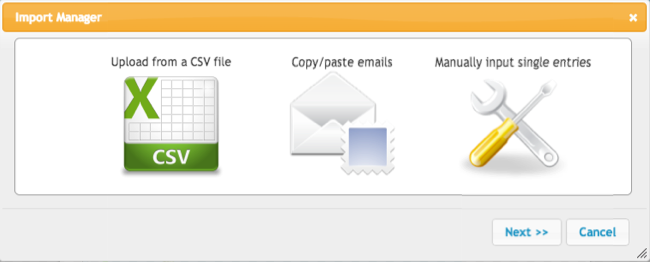 Imported Entries in Reports
Once you have imported your entries a new item will appear in the campaign report that lists the total entries that were imported. These entries will also increase your total entrant and total entry counts in the report. Click on the 'View' button to access the data that was imported.
Common uses for Importing Entries
There are a wide variety of uses for importing entries into your campaign, depending on the format and structure used. By using the import function you are still able to utilize the random winner selection function for your campaign.
Users that emailed or mailed in an entry
Adding entries that were submitted in your brick and mortar store
Actions that are external from your campaign's entry form

Submitted comments on a blog post
Subscribed to a newsletter