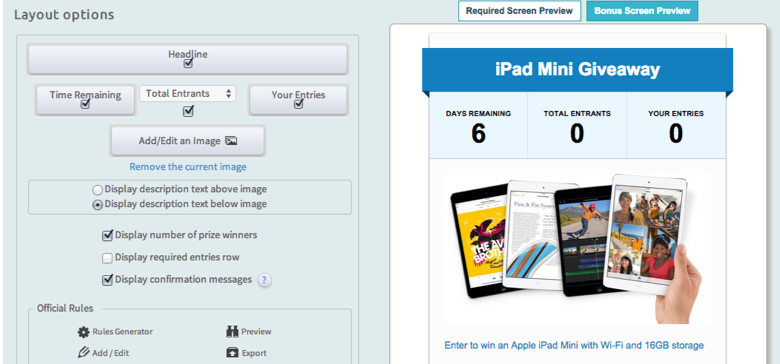 Today we released a new design for the PromoSimple interface and launched a new template for additional design options for creating entry forms for giveaways and sweepstakes.
An updated user experience for the Campaign Builder
Our new app interface design is structured to make it even easier to sail through the process of creating a new giveaway and reflect the design advancements that PromoSimple has been focused on.
The changes to the PromoSimple campaign builder was created to focus on further simplifying the user experience of creating new giveaways and designs. More focus is given to the form elements that are crucial for creating a user friendly entry form.
We've revamped the structure of the entry form layout section to remove the endless dropdown menus and provide an interactive design that reflects the layout of your entry form. This design allows you to more easily add and remove elements from your entry form by checking or unchecking the elements that you would like displayed in your form.
This new layout of the Display section also adds separation for the more advanced options, such as inputting your own Google Analytics code or designing a specific Thank you message to show to users upon completing the required portion of the entry form.
The Customize step of the campaign builder has also been drastically simplified based on user feedback. We have launched a second Template option, which provides a slightly different layout and design for entry forms. Both templates can still work with the ten different theme options ranging from a simple gray to a more colorful pink or orange and purple design.
The design options have been reduced in order to streamline the process of creating a unique design. Many of the form elements now inherit colors and styles, such as choosing a single font color and family for your entire entry form, rather than adjusting these elements on a case by case basis for each area of the entry form.
For those who do wish to add separate colors and fonts, the Custom CSS option remains for Brand & Agency accounts, wherein you can override any of the entry form's CSS with your own.

reCaptcha option for entry forms
An additional new option for entry forms is the ability to add a reCaptcha widget within the form. Users cannot complete the required portion of the entry form until they have successfully completed the reCaptcha. This reduces spam and prevents bots from submitting data or entering the promotion.

Entry Form Templates
As always, you can customize your entry form and select from any colors or fonts available for the presentation of your form. We have now also launched a second Template for entry forms which offers a slightly different layout than the original entry forms. Both templates allow you to use the pre-determined themes and to add your images, headlines and descriptions. You can also select your own colors and fonts or update the CSS with your own code for complete control over the design.