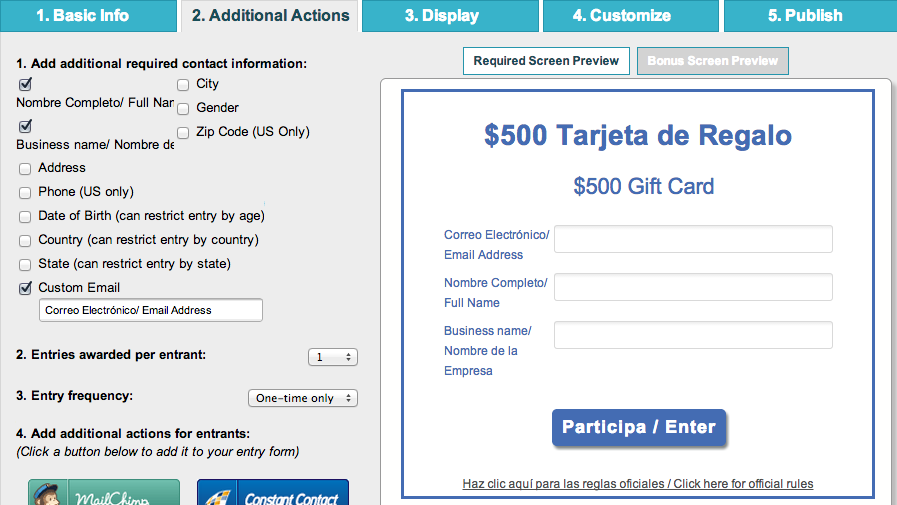 Your entry forms for giveaways, sweepstakes and contests can now be customized even further, with additional options for multi-language field labels, official rules and buttons in the entry form. In addition, entry form elements such as the number of entries for completing the required portion of the giveaway and entry completion notifications can now be hidden.
Demographic and required information fields
You can now customize the field names for any of the required data for promotions including contact information and demographic data. Along with being able to change the field label you can also alter the type of data being collected. For promotions that are targeted toward or include non-English speaking entrants you can add alternative languages for the field labels.
This features allows you to alter the data that is collected in order to create your own contact info fields, such as requiring a website URL or business name in addition to the default fields that are available. You can also add your own text for the entry form buttons used throughout the entry form and for the 'Official Rules' link at the bottom of the entry form.
Email
First Name
Last Name
Address
City
State
Country
Zip Code
Phone Number
Gender
Age
Required entries notation
On your entry form the number of entries awarded for submitting the required portion of the entry form is listed above the demographic and contact info section. You can now opt to hide this label within your entry form. This may be used primarily for those entry forms that award 1 entry for the required section, as you may decide that this is not necessary to be displayed to users.

Confirmation entry notification
You can opt to hide the notifications shown when users complete entries within the entry form. This will be applied when users complete the required section of the entry form and when bonus entries are completed. If your entry form contains only required entry methods you may want to hide this notification and choose to add your own, custom Thank you message with images, HTML and/or text.