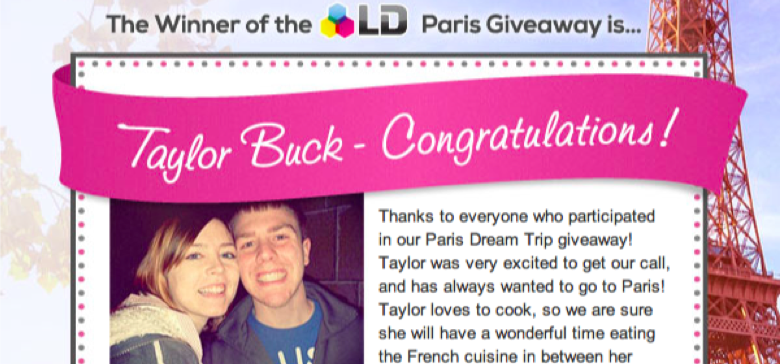 Think that your work has ended once you've selected a winner for your giveaway? Think again. Don't fret – the bulk of your job is finished (phew!), but if you want to continue running successful giveaways in the future, you may want to put some thought into how you handle announcing your winner. For example, months down the road, you don't want your fans and potential entrants to go to a page with an expired giveaway that still hasn't announced a winner:
When people see this, you definitely lose some credibility. Did a real person receive your prize? Did you even pick a winner? What's the point of entering if there are no past winners in sight? These are some questions that the above entry form might inspire from your audience. And that's not what you want, right? Right!
The main reason why people enter giveaways has to do with irresistible prize, of course. But when you handle announcing your winners in the best way possible, you can also increase your long-term giveaway success. Here's how:
Let Your Audience Know That You're Legit: Your potential entrants want to feel confident that real people win your giveaways. They want to know that you're a legit company and that you'll follow through if they win your prize.
Make Your Winners Feel Special: Chances are that many of the people who enter your giveaway are fans of your blog or product. So making sure your whole community knows that they've won is likely to excite them and strengthen the bond they feel with you. They may even feel more inclined to share their win (aka your post) with others – therefore increasing your traffic.
Connect Your Audience to Each Other: When you share winner information/stories/images with your audience, they'll feel a closer connection with your winners. And most likely, they'll do their best to join the winner's circle.
So how do you do you achieve all of these things? Here are three ideas to help you successfully display and announce your giveaway and contest winners:
Give Your Winners a Shout-Out
Make sure you keep your audience in the loop about the winners of your giveaways. In the story of your giveaway, people are undoubtedly interested in how it ends. It's important to share the outcome with your audience wherever your audience connects with you. So you should be announcing your winner in all of the places where you promoted your giveaway.
For example, if you've been shouting about your giveaway all over your Facebook page, you'll want to make sure you're announcing your winner there as well. Same goes for Twitter. I Love Free Concerts' mastermind Matt Diaz is a big fan of announcing his winners on his extremely interactive Twitter page:
Twitter is his favorite way to connect with people on a personal level. "We do fun things on Twitter," he said, "so that people know that we're human." They love retweeting people who thank them for the free tickets on Twitter. That way, other Twitter users can see that real people are winning their giveaways. Twitter, in a nutshell is an opportunity to build a solid community.
If you've been using your email newsletter to get the word out about your giveaway, be sure to share your winner(s) with your subscribers. This tactic can also help if you've already got another live giveaway to share in the same email. People will see that you've chosen a winner for your last giveaway, and therefore have faith that winning your prize is a possibility.
And, last but certainly not least, you'll want to use your PromoSimple entry form as a platform for announcing your winner. It's easy to select a winner with one click using PromoSimple, and it's also easy to publish that winner once you select one. You can enter any text you'd like in the box that announces your winners. You can even use basic HTML and adjust the colors and style of the message area to give it your own personal flair.
Ask Your Winners for Pictures
When people can see something, that something tends to be more real to them. So if they see pictures of your winners, those winners become real people in their minds. Once you've chosen your winner, ask them to provide you with a picture that you can share with your audience. Also, be sure to include what your winner says about winning the prize. If your winner responds with excitement after you contact them, you'll want to share that excitement with your audience as well.
Feature an Ongoing List of Winners
If you run giveaways on a daily basis, your readers will certainly appreciate a page that lists all of the winners of those giveaways. That way, they can check the page to see if they've missed an email and won a prize. They can also just read about the (again) real people that are winning your giveaways and feel more confident that your sweepstakes are the real deal.