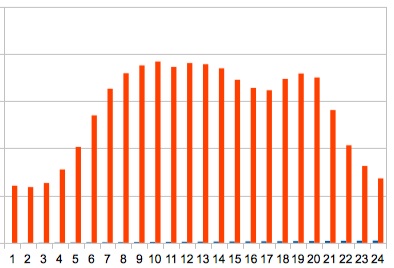 In our experience, there are two times during giveaways when they receive the most traffic: firstly, and unsurprisingly, a lot of people will enter when they first see the giveaway go live. And secondly, a lot of people tend to enter just as time is running out on the giveaway.
Above is a report from a recent PromoSimple giveaway. You can see that the majority of entries actually came in at the last minute. This trend seems to be typical of most giveaways, especially those that are pushed again a day or two before they end.
Why is this? Well, that's due to human nature. It turns out that many people tend to put things off and wait until the last minute to do things:
It shouldn't come as a surprise that a lot of people are into instant gratification as well. So if a giveaway is ending soon, people who enter late will find out sooner if they've won. That's one of the main reasons why a lot of blogs and giveaway directories have an "Ending Soonest" category for giveaways.
That final push can be critical when it comes to gaining more entries into your giveaway. Tell people that it's the last day to enter your giveaway or that they only have 24 hours left to enter and you're sure to create a frenzy and see a spike of last minute entries.
You can also do yourself a huge favor by timing your giveaway to end on a certain day. According to data we've collected from August 2013 to January 2014, it looks like ending your giveaway on a Monday between 9am and 1pm is your best bet for getting maximum exposure at the last minute. The graph below shows the number of times that PromoSimple forms were viewed by day of the week:
And the following shows a comparison of the amount of times that PromoSimple entry forms were viewed by hour of the day:
Tell Your Audience That the Clock is Ticking
Remind your fan base that they only have a limited amount of time left to enter your giveaway. And be sure that you make the wording of your announcement enticing. Remember, you want to play off of people's tendencies to wait until the last minute and their unwillingness to miss out on an opportunity.
Phrases like "24 Hours Left…," "Last Day to Enter…," "Don't Miss Your Chance…," "Hurry!" etc. are likely to catch people's attention. But use your own creativity and voice to reach out to your potential and current audience.
You can do this in a number of ways. For starters, you can:
Send out an email blast with a catchy title and a link to your giveaway that's ending soon.
Use your social media channels, like Facebook, Pinterest and Twitter, to remind people to enter to win while the can. With Facebook and Pinterest, use an eye-catching image to attract attention (and be sure to include the link to the giveaway!). With Twitter, you could consider sending a bunch of tweets on the day that the giveaway ends. Tweet out to let your Twitter followers know when they have 10 hours left to enter. You can even get a good final push if you let them know that there's only an hour left.
Create a blog post with a catchy title to remind your current audience that the giveaway is ending soon.
If you haven't submitted your giveaway to any sweepstakes directories, now's the time to do it. Your giveaway is likely to get noticed as one that's "ending soon" and will potentially get more attention from those last-minute kinds of entrants.
Check out this article to find more great strategies for promoting your giveaway: 7 Free Strategies for Promoting Giveaways & Sweepstakes