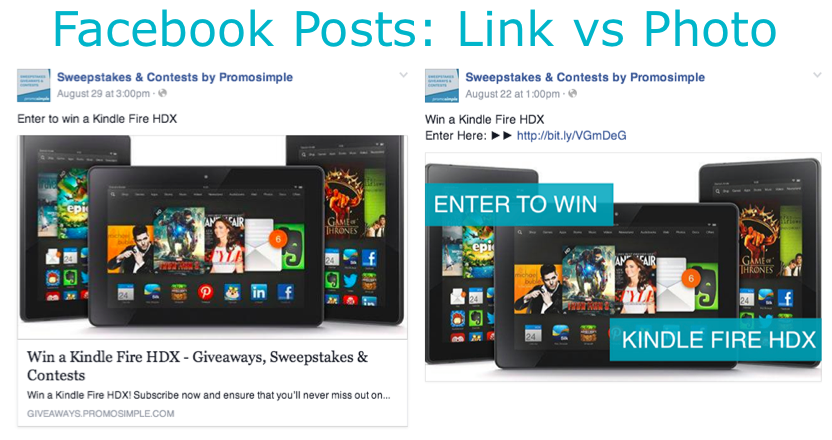 Do your users actually engage more with Link Posts than with Photo posts? In August (and also back in January) Facebook announced in blog posts that the best way to post a link to your Facebook users was via the Link Post format. According to the statement in the Facebook post, the link format receives twice as many clicks. We decided to see if this is the case for one of our Facebook Pages which posts links to giveaways that are run on the PromoSimple platform.
With this update, we will prioritize showing links in the link-format, and show fewer links shared in captions or status updates. The best way to share a link after these updates will be to use the link format.
Our data shows a drastic difference in the click-through rates and user engagement but it is the exact opposite results of what Facebook has stated. From this particular Facebook page, posts that are Photo Posts are shown to more users and get much more engagement.
Facebook Post Link Format
In the link format (shown below) Facebook scrapes some of the information from the page. You can add a snippet of text about the link and upload your own image (if you choose to do so). It automatically pulls in the title of the page and a brief snippet of the page's content.

Facebook Post Photo Format
In a Photo Post you upload an image and add your own text, which is shown above that image. You can include text and hyperlinks in this text. We have historically used photo posts with some success, including 'burying' the link in the photo description. According to Facebook: "We've found that people often prefer to click on links that are displayed in the link format (which appears when you paste a link while drafting a post), rather than links that are buried in photo captions."
Results of Photo versus Link Posts
Looking at a sample set of 85 posts on this page from August 1, 2014 to September 2, 2014 it is clear that the Photo Posts outperform the Link posts in terms of engagement.
Facebook's organic reach is much higher for the Photo posts, reaching 92% more people and generating 83% more impressions in Newsfeeds than the Link Posts.

When it comes to engagement, which is what really counts for this type of content, the Photo Posts also outperform the Link posts. The Photo Posts received 106% more clicks than the Link Posts.

When looking at engagement metrics that Facebook's algorithm takes into account when deciding on the Newsfeed reach for posts, again the Photo posts won by a landslide. Photo posts received 74% more comments, 112% more Likes and 64% more shares than Link Posts.

Based on this data, while Facebook's algorithm may start further decreasing the organic reach of photo posts that contain links, for now we'll certainly continue on 'burying' links in photo posts to ensure that post engagement is high as possible.