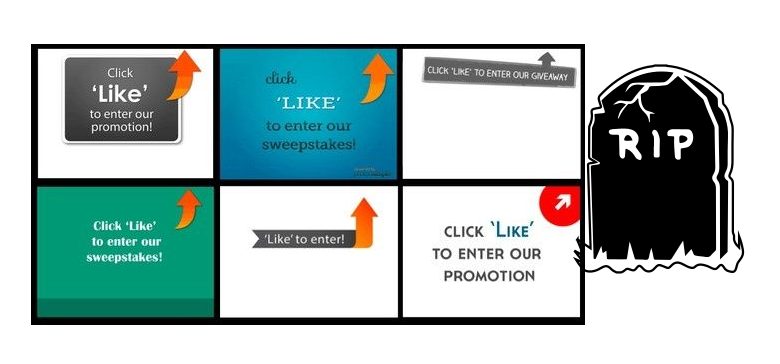 In a rather surprising (and extremely disappointing) announcement, Facebook's most recent update to the Graph API notes that 'Like' Gates will no longer be accessible for Apps on Facebook Pages.
About Like Gates
'Like Gates' have been heavily used by brands and pages to restrict access to content of a tab (App) on a Facebook Page to only those users who are Fans of the Page (have 'Liked' the page). This feature has been extremely popular for sweepstakes and contests being hosted on Facebook Pages, as the Page Admin is able to easily gain new 'Likes' from every entrant to the promotion.
According to the post on Facebook Developers, the Page object for determining if the user 'Likes' the page will no longer be accessible to newly launched Apps and will cease to function for existing Apps on November 5, 2014.
You must not incentivize people to use social plugins or to like a Page. This includes offering rewards, or gating apps or app content based on whether or not a person has liked a Page.
What does this mean?
As of November 5, 2014 a promotion (sweepstakes, giveaways, contests) can no longer ask entrants to 'Like' a Page in order to participate in the promotion. This is a drastic change for many of the promotions that integrate Facebook actions, as requiring users to 'Like' a page or rewarding users for completing bonus entries for 'Liking' a Page is one of the most common actions in promotions.
Facebook says that they want brands to gain 'Likes' for Pages organically rather than rewarding their users for 'Liking' their Page. It is unclear whether Facebook will be revising the policy for promotions that was changed only last year. In that update, Facebook stated that it was okay for businesses to encourage users to 'Like' and 'Comment' on posts, post updates to a Page and even use 'Likes' as a voting mechanism.
To ensure quality connections and help businesses reach the people who matter to them, we want people to like Pages because they want to connect and hear from the business, not because of artificial incentives. We believe this update will benefit people and advertisers alike.
While these statements sound good in theory and could understandably lead to higher quality fans for a Page (those who are more likely to be interested in hearing from the Page), it does seem like Facebook has found yet another way to limit a Page's reach in order to force them into paid advertising in order to get their content in front of users.
Promotions on Facebook have always been a great way to attract new people to 'Like' the page. The viral aspects of stories generated by users 'Liking' a Page has been an effective way for many brands to build their Fan base over time. This new limitation, in conjunction with the recent decline in organic post reach, it will grow increasingly difficult to attract new fans.
Will you be changing your Facebook Fan acquisition strategies due to this policy change? Leave a comment below: