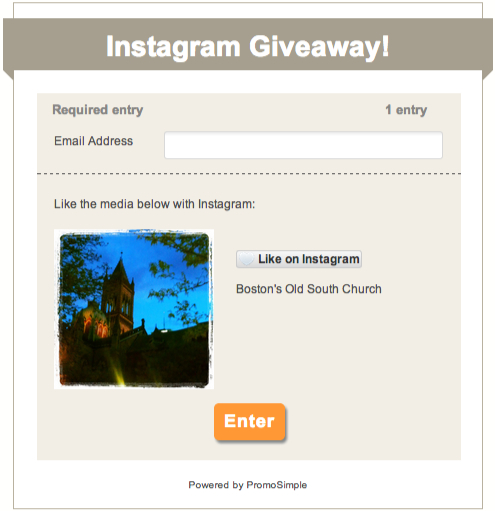 Instagram is an incredibly popular social media network that is growing quickly. Because of the immense popularity, we've added new entry options for your giveaways: Instagram Like and Instagram Follow. These entries can be required or used as bonus entries. They can also utilize the PromoSimple app to validate actions or can be setup to use a standard implementation.
Instagram Follow:
The Instagram Follow entry method allows you to specify an Instagram account for the entrant to follow. To find your Instagram account name go to your Instagram page and copy the portion of the URL that follows the slash after Instagram.com.

Instagram Like:
An Instagram 'Like' is when a user opts to favorite a particular media item, either a photograph or a video from your Instagram account. On the Instagram app and website this is done by the action of clicking the heart icon for that particular photo or video.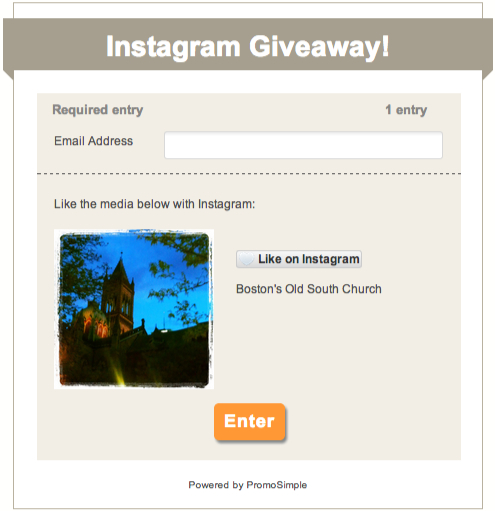 Instagram validation:
With Instagram entries you can choose whether the actions should be validated or if they should use the 'standard' format. Using the validation option means that an entrant must approve the PromoSimple Instagram app before the entry can be submitted. Authorizing this app allows the PromoSimple platform to track and verify that the action has taken place. This also records the entrant's Instagram username when an action takes place within the entry form. This data will be shown in your reports for that entry method.
Instagram standard entry:
Using the standard entry method means that user is not required to authorize the PromoSimple Instagram app. After the user has 'Liked' your media or followed your account they are asked to type in their Instagram username so that you are able to manually verify on Instagram that they have completed the action.