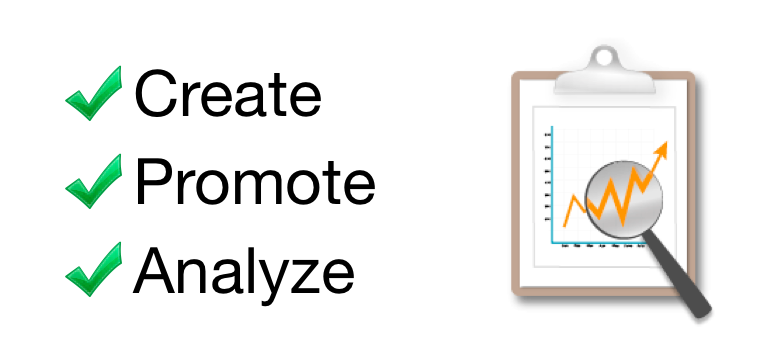 To help you get started creating incredible giveaways and sweepstakes that will help you grow your audience, we've put together some tips and highlighted a few features to guide you on your way.
Common goals for running giveaways & sweepstakes
PromoSimple makes it easy to meet all of your goals using a simplified platform that requires no design or technical skills, making it perfect for marketers and bloggers.
Expose new users to your brand to rapidly grow your Facebook Likes
Increase your Twitter following and encourage Tweeting about your brand
Build an audience on Instagram by attracting Likes and Followers
Broaden your Pinterest reach with new Repins and Followers
Increase return website visits by growing and rejuvenating your email lists
---
Customize giveaway requirements to meet your goals
All aspects of your giveaway can be customized, including the design of the entry form, where it's hosted and what users are required to do to enter. The most common goals for giveaways relate to growing audiences. We make it simple to achieve these goals with our social media (Facebook, Twitter, Pinterest and Instagram) and email service provider integrations.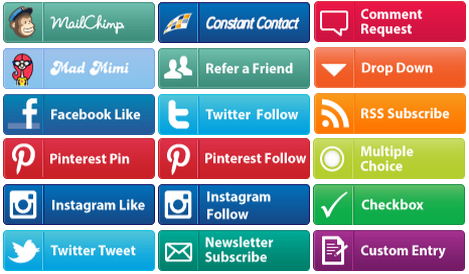 For Twitter, Facebook and Instagram, you can also enable validation. This allows the app to communicate with the social network and verify that the action has taken place, thus decreasing the likelihood of 'cheating' by entrants.
In addition to social media, there are options for newsletter subscriptions, polls and surveys, and custom entries, which can be used to create any entry requirements that you'd like your entrants to complete.
---
Before getting started with design or selecting entry methods, establish what your goals are and what metrics you will use to evaluate the success of your giveaway.
Identify goals for your promotion
Why are you running this giveaway? For example, you may be looking to improve a metric for your business such as increasing revenue or lowering your cost per acquisition.
Focus on metrics that support your goals
How do you plan on getting to the goal that you've set? These metrics are often similar to the benchmarks you would be using for any other online marketing campaign and are the answer to 'How am I going to reach the goals that I set?'
Use requirements that support your goals
While there are innumerable options for what you can require entrants to do, try not to go overboard. If your primary goal is to acquire email subscribers, set up your giveaway to require all entrants to subscribe to your newsletter. If you don't need users' physical addresses, don't require them – adding these extra fields may decrease the total number of entrants.
Go above & beyond with bonus entries
Now that you're meeting the goal that you set out to accomplish, why stop there? 42% of entrants complete at least one bonus entry. 'Bonus' entries are shown to the entrant only after the required information is completed, so as not to distract from the primary goal.
Evaluate your results
Did you meet your goals? Exceed them? Determining your campaign's success uses the same metrics as your other online paid marketing campaigns. What was the cost of your prize? What did you receive from the campaign (visits, revenue, subscribers, etc.)? Calculate your CPA and ROI just as you would with any other expenditure.
Read the full post about setting goals for giveaways on our blog.